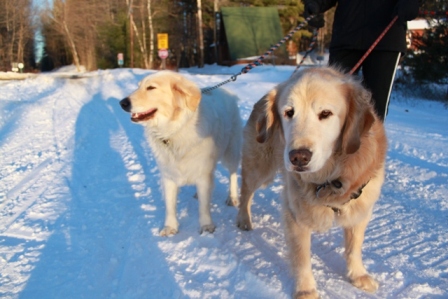 The lead golden is Tucker taking his owner for a walk on the Bridge Falls path Yesterday.   I was finishing some Fernald Ice "skating rink" chores and saw a couple of friendly ladies walking their dogs in the late afternoon sun and decided to ask them to be my first post.   
The railroad has probably done more to shape the town of Wolfeboro over the past 150 years than perhaps any other singular feature.    Prior to the Wolfeboro Railroad, tourist, "in their Sunday best", would take the train to Alton and then onto Wolfeboro across Lake Winnipesaukee by Steamboat to the town docks.   The Wolfeboro Railroad operated from 1872 to 1985 and created a tourist boom with several large hotels in the downtown area that no longer exist today.  It also led to literally dozens of youth camps and many of the classic seasonal cottages dotting the shoreline of Lakes Wentworth and Winnipesaukee.  It also helped support the once famous Allen A. Resort, which the old timers tell me was the real boom period of the town. 
My childhood home abutted the Wolfeboro Railroad and subsequent Bridge Falls Path.   I can distinctly remember the whistle in the early afternoon and the night train, the smell of the coal fired furnaces and the smoke, the light rumble beneath your feet upon its approach.   I also remember the last tourist coaches in the 1980's when the railroad was shut down.  A few years later the corridor was revitalized as part of the rails to trails program.  At the time i'm sure my family was ecstatic though the daily routine was so engraved in us the train it might as well have been a passing breeze.   When your witnessing the end of an era as a young teenager, nostalgia wasn't one of the first things that comes to mind.  
When my wife and i returned to Wolfeboro in 2004 to raise a family we bought land adjacent to the railroad/Bridge Falls Path and built our new home.  I never really made the whole railroad connection until now though my wife will swear it's a conspiracy.  There is hardly a day that goes by that our family is not running, biking or walking the dog on the finished trail that ends out at Cotton Valley Road and tracks beyond toward Sanbornville, Conway, Portsmouth… and judging by the number of people that use the trails daily it has undoubtably become a vital part of the Wolfeboro Community again.
 Historical facts and credits, History of the Town of Wolfeborough, New Hampshire – Benjamin Franklin Parker – 1901 – pp.511-512 – Reprinted in 1988 – American Offset Printers – Los Angeles
Great Links to the Wolfeboro Railroad: http://www.winnipesaukee.com/forums/showthread.php?t=1663 and http://www.trainweb.org/theattic/Wolfeboro.html